What exactly are Periscope and Meerkat and how will they change Social Media?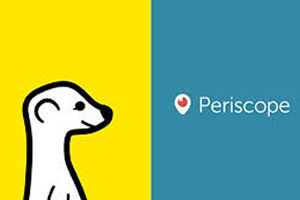 A few weeks ago, two very similar new Social Media platforms launched within days of each other – Periscope and Meerkat. Both were fairly high-profile launches to the already-crowded Social Media scene, so what do they both do, will either of them last, and what is the point of them?
Well firstly, both are live streaming video apps for mobile devices. They allow you to take live video and share it with the world in real-time. Both are available on iOS and Android and also allow you to view (but not record) footage on a desktop, laptop or any other device with a web browser.
Both of these apps integrate nicely with Twitter – you actually log in to both using your Twitter credentials. Periscope integrates slightly better though, and with very good reason – it was recently acquired by Twitter. Naturally, as parent company they are favouring Periscope, but that's not to say that Meerkat's integration with Twitter is flawed.
The main difference between the two is that when you log in to Periscope it lists all of your Twitter followers and tells you which of them are on Periscope, allowing you to easily follow them on there too. Meerkat still has a suggestion tool for people you may know (much like the one on LinkedIn), so not showing your Twitter followers is a pretty minor downside.
It's showtime!
[fusion_builder_container hundred_percent="yes" overflow="visible"][fusion_builder_row][fusion_builder_column type="1_1″ background_position="left top" background_color="" border_size="" border_color="" border_style="solid" spacing="yes" background_image="" background_repeat="no-repeat" padding="" margin_top="0px" margin_bottom="0px" class="" id="" animation_type="" animation_speed="0.3″ animation_direction="left" hide_on_mobile="no" center_content="no" min_height="none"]
So what happens once you start to view footage? Well, the apps remain remarkably similar. Both show you live or nearly-live footage, and as you watch you can post comments and questions, and also show your appreciation with a Facebook-style like on Meerkat, or a 'heart' on Periscope.
Once you finish watching a Meerkat video, it's gone – for good. This is a continuation of the trend for 'perishable' content that's been created by Snapchat in recent times. These apps combine the visual impact and ease of use of YouTube, with the short shelf-life of Snapchat conversations.
With Periscope, you can view the videos again, but only for up to 24 hours. You can however, download videos to your phone – which admittedly I haven't done as part of my research, so I can't comment on how easy that is. Meerkat also lets you record a video and schedule it for later (but once launched, it can of course only be viewed once).
My verdict on Periscope and Meerkat so far
So far, the way these apps are used is pretty poor, and a lot of what I've seen has been utterly vacuous! As with most forms of Social Media, the bulk of the content is purely that – social. Among other things, I have seen a video of some shop staff in Norwich having their lunch in the staff canteen, a lady having her hair cut and some drunk people arriving back from a night out!
Does that sound harsh? Well, I am reserving judgement, because I think the value of these apps will take time to materialise – that too is the same with any Social Media. I have no doubt that my experiences on these apps will improve as more of my Twitter followers sign up for them. Right now there is a great sea of content out there, and I can't easily navigate my way through it as none of my followers are on there.
How might these apps be used for Marketing?
Well, it's not difficult to see how these apps can be used for Marketing, because already, some people are using live streaming very well. In time, if these apps catch on, more people will learn to use them well, just like they have done already with other Social Media tools.
One thing that won't change about these apps is the slightly rough and ready feel of them both. Clearly, these are only ever intended to be mobile apps. That means that to use them, you prop your phone or tablet up, press a button and sit and talk to camera (or walk around with it if you're intending to show viewers something on the move). There is no way of importing in any graphics, captions or canned music like you see on some YouTube videos – and for me that's part of the charm of them.
When used well, these apps effectively give you the means to do a basic, stripped-down webinar at little or no cost. Just like a webinar, you can get instant feedback on how well-liked your video is, and you can also get comments and questions to respond to. Compared with a 'proper' webinar, you can't incorporate a slide presentation, but you can demonstrate a product or use other visual aids effectively.
Hootsuite are one such example of a company already using it well. They recently used Periscope to explain their new Social Media ad management platform and invited questions from their followers. It helps that their target audience of Social Media managers are naturally early adopters of Periscope (like me), but in time I see no reason why Periscope can't become mainstream.
Having watched the Hootsuite clip, I feel it would be easy for a small business, or even a sole trader to make use of Periscope. After all, all you need is a mobile device, a quiet place to film, and a reasonably confident presenter. If you make mistakes, and your office doesn't resemble a film set, no problem – live streaming is about personality, not perfection, and remember – the shelf life of the content is very short.
The future for these apps?
By now you'll probably know from my comments that I think there's a place for live streaming. For long-term content, YouTube is probably still best, as it seems a shame to create great content that only lasts 24 hours. For very topical content though – let's say you wanted to comment on something that's relevant to the news that day – it's potentially a very powerful medium.
When I look at these two apps, I see remarkable similarities. That means there's little point in being on both for the long-term, so this looks like being a head-to-head battle for survival – the Betamax and VHS of live streaming if you will (or Blu-Ray vs HD-DVD if you're slightly younger).
If I have to predict which will win out, I would lean towards Periscope. It already integrates slightly better with Twitter, and as owners of Periscope, you have to wonder what else Twitter have up their sleeves to nudge people towards their platform.
For now though, if you have a Twitter account, I highly recommend that you download one or both of the apps and take a look for yourself. Then, keep an eye on how the take-up of these apps progresses, as they could be a great marketing opportunity for you in future.[/fusion_builder_column][/fusion_builder_row][/fusion_builder_container]