Do you need a great-looking website that's easy to manage and update?
Your website may be people's first impression of your business. As the web gets more crowded and customers have more choice, that first impression simply has to be a good one.
With the right approach, your website can help you stand out from the crowd, keep people's interest and generate leads for you.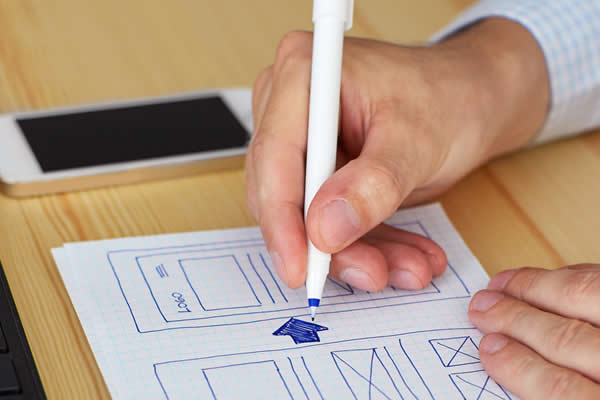 What does your business need from a website?
Just like any other aspect of your business, a website shouldn't take up too much of your time and attention. It should reflect well on your business and generate leads and sales, but you probably don't have the time to become an expert in web design, coding or digital marketing. I can make things simple for you, and design you a website that provides all of the benefits that a good site should for you and your customers.
A website you can manage easily
If you've ever visited an out-of date website, how does that make you feel about the company? An outdated website gives off all the wrong messages to visitors, and regular fresh content can be great for your Search Engine rankings. That's why I build sites using WordPress – it's so simple to use that you can manage and update your own website easily, even with no prior knowledge of web design. Of course, I can always make changes for you, but managing the site yourself helps avoid extra costs. If you regularly shop or bank online, you'll easily manage to add news items or make text changes to your pages.
If you don't show up well in Google, it may not even be worth having a website. I build sites that are designed to help you show up well in Google results. Ranking well can be a real challenge, so it's important to get the basics right from the start when you build a website. As well as being easy to manage, WordPress sites use clean, simple code that makes it easier for Google to understand what your site is about. I also ensure that every site has the basic tags in place to help it rank well in Google.
If you're in a highly competitive market, I can also offer you ongoing Search Engine Optimisation services. However, if you're a small local business, in a less competitive market, a well-designed and well-written site may be enough on its own to get you on page 1 of Google.
Works well across all devices
In 2014, more Google searches were performed on a mobile device than on a computer, for the first time. It's hugely important that your content shows up well on mobile devices. All of the sites I design now come with a 'responsive' template, meaning that the layout adapts to ensure that it's still easy to use, even on mobiles and tablets. Not only is that a better experience for your site visitors, but having a mobile-friendly site helps with Google rankings as well.
The service you need…and nothing more
I work with businesses and budgets of all sizes, and offer a service to suit you. If you're short of time and need someone to just take care of everything, I can build a site from scratch. Even if you have no logo or images, and need all of the content written I can work from a blank sheet of paper and deliver a site that meets your needs.
If however you want to do some of the work yourself – like providing your own content and images – I can do the rest and give you a site that meets your budget without losing out on quality.
Whichever way you choose to work with me, your site, domain and hosting account belong to you. If I do any other work for you, it will be your choice – there are no tie-ins or ongoing commitments to maintenance or other services.
Need some help?
If you need some help or have questions about how to plan your website, just drop me a line through the website and I'll be very happy to help you.
How to create a great website